Marketing books

International Marketing in the Fast Changing World
Volume 26 of Advances in International Marketing is devoted to a set of papers that attempt to develop new knowledge or refine the existing knowledge to account for the emerging international marketing issues in a fast changing world.
These include topics such as dynamic capabilities of international marketers, entrepreneurial orientation, rise of emerging markets MNCs, cultural and institutional distances, organizational learning and knowledge transfer in MNCs, and international marketing strategies in fast changing environments.
---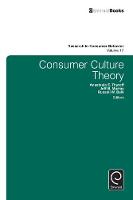 Consumer Culture Theory
The chapters in this volume are selected from the best papers presented at the 10th Annual Consumer Culture Theory Conference held at the University of Arkansas, USA in June 2015. The diverse interpretive research and theory represented in this volume provides the reader with intellectually stimulating opportunities to examine the intersections between a variety of topics that represent the cutting edge in consumer research. These studies draw on an array of qualitative methodologies and the substantive topics represent crucial issues for our times.
---
Review of Marketing Research: Special Issue
Marketing in and for a Sustainable Society
This special issue will assemble a set of current, comprehensive/extended review articles/chapters written by distinguished experts on the state-of-the-art of marketing research and future prospects in the transition towards sustainable society. Reviews have been written for impact on marketing thought and clearly articulate the significance, and present critical perspectives and integrated theories on marketing for sustainability. This special issue features contributions from several top scholars including former editors of top journals in marketing.
---
What's happening in Marketing research?
Emerald is actively seeking book proposals in Marketing, please contact Emma Stevenson for more information or to discuss your idea.
Visit our Marketing Subject Zone to find out more about the latest research in the marketing field.
Sign up to receive our e-mail alerts and you will receive information about all the latest research in your interest area. Just remember to select all of the areas you are interested in.
Register for a free Emerald profile...
---
Get in touch
For more information about our Marketing portfolio, please contact the team:
Emma Stevenson
Books Commissioning Editor
[email protected]
Search the Marketing Collection
More of the best in the field
You can find some of the most topical and advanced research available in our marketing books, with contributions from some of the biggest names in marketing.
Research in Consumer Behavior
Edited by: Russell W. Belk


---
Advances in Business Marketing and Purchasing
Edited by: Arch Woodside


---
Advances in International Marketing
Edited by: Shaoming Zou


The latest issue of Advances in International Marketing is available to !